Aku bukan penterjemah yang baik. Semua tergantung situasi. Ketika pekerjaan lebih banyak menuntut aku untuk menulis dalam Bahasa Inggris, aku menjadi lebih terbiasa. Sebaliknya, ketika Bahasa Indonesia yang menjadi bahasa utama untuk laporan, aku lebih sering menulis dalam Bahasa Indonesia. Di saat-saat seperti itu, kemampuan menulis dalam Bahasa Inggris suka turun, terkadang ke titik terendah.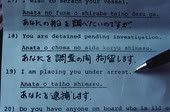 Paling berat, kalau menterjemahkan menjadi bagian dari penyusunan laporan. Jujur saja, masih lebih mudah menulis dalam Bahasa Indonesia atau Bahasa Inggris, ketimbang menterjemahkan. Apalagi kalau diburu-buru. Tapi, sampai sekarang, aku masih menghindari pemakaian
software
terjemahan yang banyak dipasaran. Hasilnya, aku musti bekerja ekstra untuk menterjemahkan. Wajib hukumnya untuk membaca hasil terjemahan dua sampai tiga kali bahkan lebih. Selalu ada saja yang tidak pas. Begini deh nasib kemampuan bahasa pas-pasan.
Hari ini, aku baru saja terbengong-bengong. Aku menerima sebuah tulisan dalam Bahasa Inggris yang harus aku ulas. Tidak ada hubungannya dengan pekerjaanku. Jadi sebetulnya tidak ada keharusan untuk melakukan
review
, tapi tokh aku lakukan juga. Sungguh, aku bingung sekali membaca tulisan itu. Sampai sempat berpikir, apa barangkali kemampuan membacaku juga sekarang jadi jeblok? Semakin aku amati, semakin banyak hal aneh yang aku temukan.
Aku menyerah.
Aku kontak orang yang menyusun tulisan, dan terutama orang yang memberi input untuk tulisan itu. Hasil obrolan sementara membuat aku sampai pada kesimpulan bahwa dia membaca tulisan Bahasa Inggris, kemudian menterjemahkan ke dalam Bahasa Indonesia, mencari kata-kata kunci, dan menulis kembali ulang dalam Bahasa Inggris. Dan, ya, terjemahan Inggris-Indonesia dan Indonesia-Inggris mempergunakan
software
.
Sebentar.
"Pertemuan [bahwa/yang] prosedur untuk kembangkan MSP proposal akan bersifat diperumit lebih sempit dibanding [yang] diperlukan untuk proposal"
adalah hasil terjemahan
software
yang kemudian diterjemahkan balik (tetap pakai
software
) menjadi
procedure to develop the MSP proposals would be a little more complicated than required for proposals
Maksud Lo?
Bukan sekedar kualitas terjemahan tetapi, TOLONG, ada yang bisa bantu aku, kenapa tulisan berbahasa Inggris itu harus diterjemahkan ke Bahasa Indonesia untuk kemudian diterjemahkan balik ke Bahasa Inggris?
Ugkh, aku jadi teringat tulisan
tentang terjemahan yang lain
, nih