"Banyak sekali dari kita berkeinginan mengemukakan apa yang kita mau mereka dengar, dan bukan memberikan apa yang mereka mau dengar. Jadi di sini perbedaan titik pandang orang komunikasi dan orang program/proyek."
Begitulah komentar yang aku terima ketika aku mengkoreksi tulisanku yang diedit dan kemudian aku temukan hal penting yang ada di tulisan itu justru hilang dan beberapa hal mengalami perubahan makna yang mendasar. Dalam koreksi itu, aku menulis, "
For us, we would like to see the reader not just know about our achievements, but more on what we are trying to do
."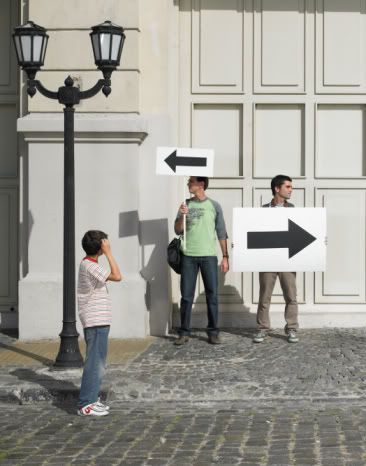 Aku memang manusia yang percaya pada proses, bukan sekedar hasil akhir. Ini juga yang mempengaruhi pola bekerja aku. Dalam menulis laporan, dan menyampaikan perkembangan program yang aku kerjakan, dan dalam banyak hal lain, aku memberi perhatian pada proses yang terjadi, bukan sekedar hasil akhir. Apalagi program yang memang lebih mendorong perubahan-perubahan cara berpikir dan bertindak, yang tentu saja keberhasilannya tidak bisa sekedar dilihat output. Karena itu, aku ingin orang betul-betul dapat informasi yang benar dan tepat tentang program itu, sebelum melihat hasil yang dicapai. Aku, justru berpikir, tidak mungkin dan tidak bisa seseorang bisa menghargai pencapaian di lapangan, tanpa memahami apa yang dilakukan disana dan kenapa itu dilakukan.
Memberi apa yang mau mereka dengar.
Apa sih yang ingin kamu dengar tentang negara ini? Sesuatu yang baik? Sesuatu yang buruk? Sesuatu yang BENAR? Sesuatu yang menyenangkan hati?
Tidak usah jauh ke negara deh, soal pasangan saja ya, atau teman-teman terdekat kita. Apa sih yang ingin kamu dengar tentang mereka. Fakta tentang teman-teman dan pasangan? Atau hal-hal baik yang membuat kamu senang pada mereka?
Untuk aku, "strategi komunikasi" harus dilakukan bukan sekedar masalah menyampaikan apa yang aku atau mereka mau, tetapi lebih jauh dari itu, menyampaikan fakta dan kebenaran.


Am I sound defensive?
Bad Language
, adalah tempat favoritku untuk senyam-senyum melihat berbagai bentuk komunikasi lain.
Matthew Stibbe
.