Huiii, dapet "baton" nih, sekarang ada book baton dari
Intan
.. seneng deh, soalnya emang suka buanget ama buku. Isinya tuh ini:

Total number of books owned: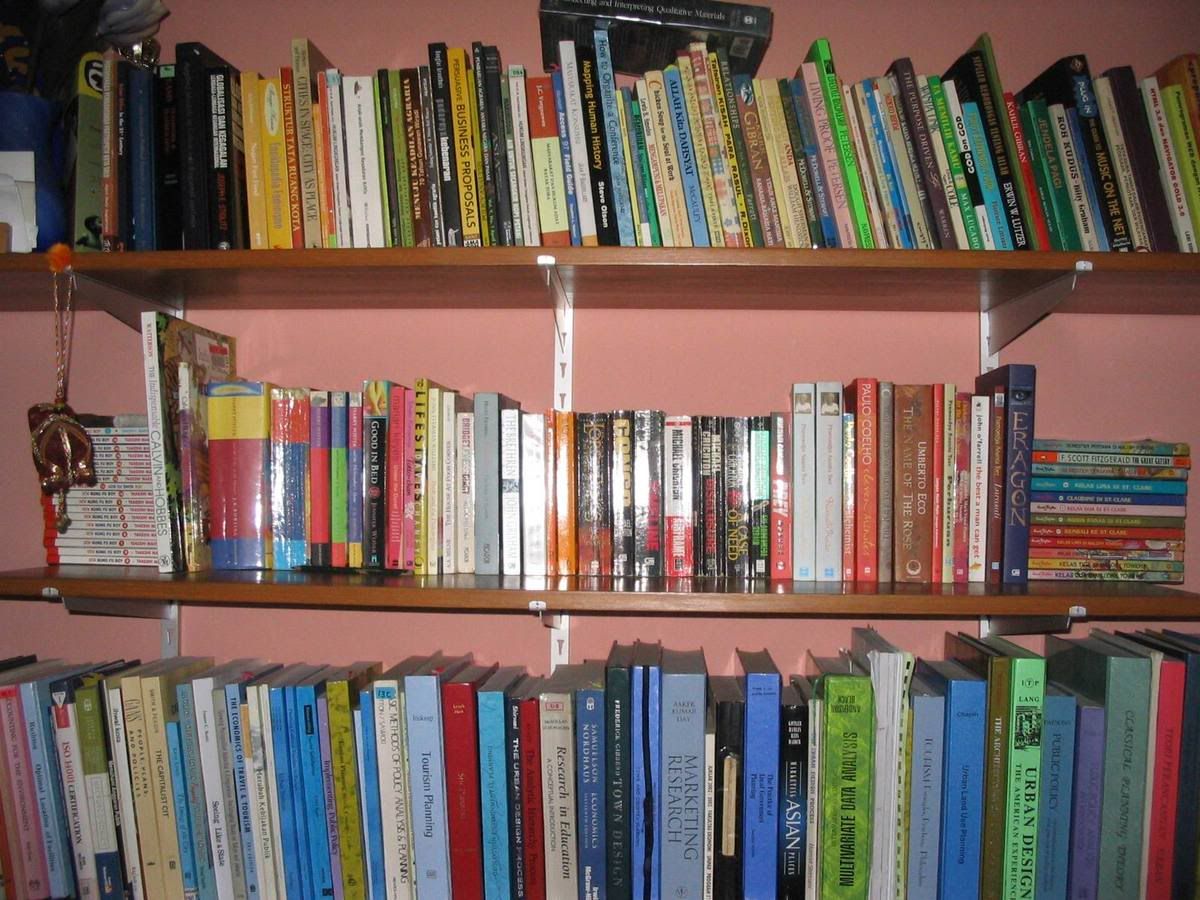 Wadoh, susah ngitungnya nih. Apalagi kalo musti ngitung dari buku pertama yang aku punya. Gila aja. Pokoknya buku2 pertama yang aku punya itu buku2nya Enid Blyton yang Lima Sekawan. Kumplit (dulu, sekarang mah udan tinggal sisa-sisa kejayaan deh). Sampai terus nambah dengan Pasukan Mau Tahu (tidak bersisa), Malory Towers dan St Claire (masih ada semua - thanks to ominum!), dan rasanya hampir semua Enid Blyton sampe yang buku tunggal aku punya. Ditambah Trio Detektif (makin sadar, kenapa aku pengen jadi mata-mata atau detektif dalam khayalanku), dan masih banyak lagi. Mulai pindah ke Tintin (yang juga kumplit, tapi sekarang juga sudah hilang entah kemana), sampai akhirnya seleraku pindah ke Agatha Christie (juga sudah banyak yang menghilang), kungfu boy, dan masih banyak lagi. Sekarang buku-buku koleksi yang tersisa tinggal kungfu boy, Harry Potter (yang terbaru bakal diambil hari ini...hore), Michael Chrichton, Pramoedya Ananta Toer, Paulo Coelho. Semuanya dalam satu baris rak yang mengambil jatah salah satu dindin kamarku dari atas sampai bawah, dari ujung kiri ke ujung kanan. Di rak lain ada buku-buku tentang perencaan kota dan wilayah, yang didominasi buku-buku tentang
urban design dan tourism planning
, dan
public policy
. Terus ada buku-buku tentang Belanda dan Rotterdam yang berderet, mulai dari buku yang berisi foto sampai buku tentang sejarah, dari bahasa Inggris sampai yang bahasa Belanda. Terus ada rak lain, isinya buku-buku rohani, dengan beragam topik dari doa sampai kuasa penyerahan diri. Terus ada buku-buku agak agak filsafat, sebagian buku abang, sebagian bukuku sampai buku-buku tentang
lifestyle
seperti
barbie culture
, buku-buku tentang feminisme, buku-buku tentang ekonomi (berhubung baru mau mulai ngajar di ekonomi nih), buku-buku tentang
research methods
, baik yang sangat teknis sampai yang teori-nya. Terus ada buku-buku tentang manajemen perusahan, bussiness plan untuk keperluan kantorku. Belum lagi ada buku-buku komputer dan
graphic
design
(sebagian bukunya Dindin nih). Jumlahnya? Susah euy, yah, bayangin kamar dengan dinding setinggi 3 meter lebar 4 meter, penuh dengan buku, itu kira-kira adalah
500-600an
buku, ditambah yang ada di kamar kerja satu lagi, dengan jumlah hampir mirip, ditambah dengan buku-buku yang akhirnya disimpan di perpustakaan kantor.

The last book I bought:
Sang Maestro - teori-teori ekonomi modern: Mark Skousen (Prenada)
Harry Potter terbaru - JK Rowling
Merebut Negara - Hans Antlov, R. Yande Zakaria
Attraction, Theories, Trade, Investor - Hermawan Kartajaya
Dana Alokasi Umum: konsep, hambatan dan prosep di era otonomi daerah - Dr. Mahmud Sidik

Book reading right now:
Sang Maestro - teori-teori ekonomi modern: Mark Skousen (Prenada)
Collecting & Interpreting Qualitative Methods
Harry Potter and the half blood Prince
(satu dibaca di kamar tidur, satu dibawa-bawa, satu dibaca di Potluck)

Five books that mean a lot to me:
Seri: Lima Sekawan, Malory Towers, St Claire - Enid Blyton. Plus seri-nya Agatha Christie. Terlepas dari ada yang terasa udah agak garing, yang pasti buku-buku itu membentuk aku banget.
The Alchemist - Paulo Coelho
Globalization and Its Discontent - Josepf E Stiglitz
Kuasa Penyerahan Diri - Jerry White
Marketing Asian Places - Kotler
Five people to whom become the next victims:
tambahan gak penting: foto-foto training kemarin ada
disini
ya