Memang menyenangkan untuk bisa kembali ke rutinitas awal.
It's good to be back
. Enak sekali bisa kembali lagi.
Minggu lalu, rutinitas tidak keruan, inspirasi sempat mampet. Pekerjaan sih masih berlangsung normal, tapi kok tiba tiba seperti agak terhambat, sedikit. Akhir minggu itu, aku berangkat ke Jakarta, nonton javajazz. Kembali ke Bandung sempat mengalami penyakit pasca liburan. Itu loh, agak sulit untuk kembali ke rutinitas awal, sulit kembali ke kebiasaan. Masih sulit bangun pagi, masih sulit untuk kembali ke
mood
kerja, masih malas untuk mulai menulis, membalas email dan lain-lain.
Untung tidak berlangsung lama. Akhirnya semua kembali ke normal. Rabu kemarin, mulai membalas email-email yang masuk, menulis blog, mempersiapkan bahan perkuliahan, mengawasi dan mencek kemajuan pekerjaan di kantor, dan tentu saja termasuk dengan berbenah kamar (berikut membeli
paper holder
dan alat tulis kantor yang lain).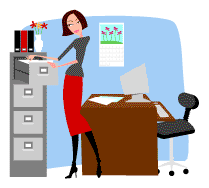 Kembali ke kantor, tidak banyak perubahan. Ada beberapa pekerjaan yang harus aku supervisi. Kembali ke kampus, melihat mahasiswa lagi. Senang sekali bisa ada lagi di depan kelas, mempersiapkan ini itu, membahas beberapa rencana perkuliahan yang belum fix. Kembali lagi ke dunia internet-an, walaupun pakai mati lampu (sekarang sih aku pasti menyampaikan ucapan terimakasih sebesar-besarnya sama barang yang namanya UPS itu).
Well, hari ini, mudah-mudahan seluruh aktivitas betul betul bisa kembali normal. Karena, ada yang kembali juga dari jalan-jalannya. Asik asik...
Aku memang mudah merasa bosan, tapi bukan berarti aku tidak suka rutinitas. Sampai batas tertentu aku menyukai rutinitas. Malah sebetulnya sih, aku ini tergila-gila jadwal.
Schedulaholic
. Kalau memang ada kata itu. Tapi tunggu dul deh, kalau harus melakukan rutinitas yang ama berbulan-bulan. Uaaa, bega banget. Biasanya aku akan merubah rutinitas itu, sewaktu-waktu. Kalau tidak bisa bikin perubahan besar seperti pergi ke luar kota, palingan aku merubah kebiasaan berpakaian, merubah tempat makan siang, merubah rute ke kampus (sayangnya rute ke kantor tidak bisa dirubah, sudah terlalu dekat dari rumah), merubah jawdal menulis. Itu pun sudah bisa menghilangkan kejenuhan. Setelah itu, biasanya kembali lagi ke rutinitas itu. Menyenangkan. Kembali ke rumah yang sudah sangat kita kenal, kembali ke lingkungan yang sudah kita mengerti luar dalam, kembali ke kantor dengan persoalan yang sudah di duga, kembali melewati jalan yang sama dengan tebakan kemacetan yang pasti jitu.
Well, kali ini aku juga bilang, senang sekali bisa kembali ke rutinitas aku termasuk semangat untuk bekerja-nya.