Aku ini suka sekali dengan
soundtrack
, musik yang menjadi latar sebuah film *
betul gak sih, musik itu sebagai latar? Soalnya, menurut aku terkadang musiknya malah jauh lebih punya kesan kuat daripada si film itu sendiri*
. Aku juga tidak tahu pasti sejak kapan aku menyukai
soundtrack
. Bisa jadi karena aku suka film, maka aku suka
soundtrack
*tidak selalu harus seperti itu sih*.
Tapi setiap nonton film, lagu-lagu yang muncul juga terekam kuat di ingatan. Buat aku lagunya akan sangat mendukung film itu, dan tiap denger lagunya aku juga makin inget film itu. Lagunya, untuk aku menggambarkan film itu. Tidak selalu harus film musikal ya...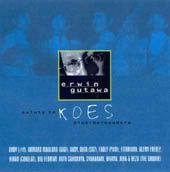 Kemarin dulu, aku diberi album Erwin Gutawa yang Tribute to Koes Ploes (suka sekali dengan album keren itu, terimakasih, Bang). Nah, kalo kamu punya, coba deh dengar lagu pertama di side kedua atau side B. Aku suka sekali lagu itu. Begitu aku dengar lagu itu, yang terbayang adalah film. Seandainya saja ada film tentang Koes Ploes, lagu itu jelas akan menjadi
soundtrack
-nya, terutama di
opening title
-nya. Wuih, keren banget (info untuk kamu, menurut aku album ini cocok buat kamu yang suka soundtrack atau yang tidak fanatik hanya dengan satu atau dua jenis musik, karena ada berbagai macam jenis lagu, juga cocok untuk menemani menyetir Bandung-Jakarta. Ini lagu-lagu Koes Ploes gitu loh).
Membuat aku juga berpikir, apa ya
soundtrack
sekian tahun hidup aku ini? Aku memang sangat menyukai musik. Sejak aku bisa mengingat hidupku memang dipenuhi musik. Aku jatuh cinta pada musik. Aku ingat waktu aku SMP, menurut supirku aku sedang sakit kalau aku tidak bernyanyi! Musik membuat aku merasa lebih hidup. Musik buat aku berperan seperti
soundtrack
, ada lagu yang ceria yang menemani aku waktu bahagia, lagu cinta, waktu aku jatuh cinta, dan lagu-lagu sedih yang menemani aku waktu sedang patah hati, ada lagu-lagu yang selalu menemani aku waktu aku butuh ketenangan. Ada beberapa lagu yang selalu menemani aku, ada beberapa lagu datang dan pergi sesuai waktu. (Mungkin itu sebabnya aku bisa bertahan siaran di sebuah radio yang sangat tidak layak dijadikan tempat bekerja, karena disitu aku tidak merasa bekerja, tapi bersenang-senang!)
Aku tidak tahu dengan kamu, buat aku, sulit untuk menetapkan satu jenis musik tertentu yang menjadi favorit aku. Terlalu sulit. Aku suka hampir semua jenis musik, semua jenis lagu. Apapun itu, selama aku masih bisa mendengarkan musik dan lagu dalam hari-hariku, itu cukup.
Setidaknya saat ini, aku sedang suka bangun pagi dengan lagu-lagu klasik, dilanjutkan lagu-lagu up-beat, siang hariku akan diisi lagu yang sesuai dengan apa yang tengah aku kerjakan, sore hari dengan lagu-lagu dari
drive and jive
, dan malam biasanya dengan lagu-lagu rohani. Di mobilku saat ini, album Erwin Gutawa tengah berkuasa.
Kalau aku harus buat
soundtrack
hidupku, lagu apa yang akan masuk ya? Rasanya, halaman di pojok ini tidak akan mampu memuatnya.