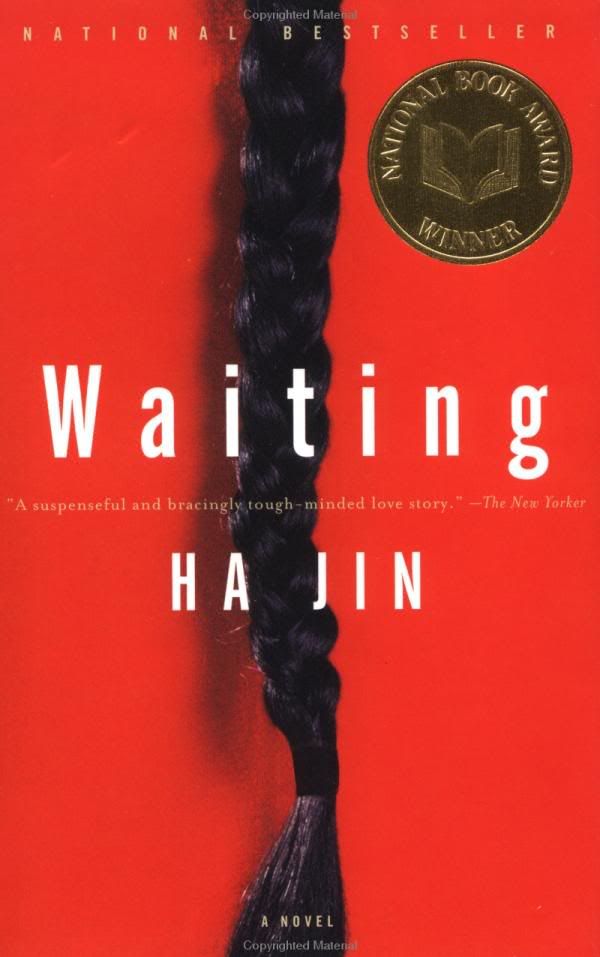 Siapa sih yang suka menunggu? Rasanya, banyak orang mencantumkan kata "menunggu" di kolom "hal yang paling tidak disukai/ dibenci. Menunggu, mau hanya 5 menit, atau bahkan 1 menit membuat orang tersiksa, kesal dan marah. Mau menunggu orang ngasih amplop gaji atau orang nagih hutang, tetap saja kesal. Jadi, coba deh bayangkan kalau harus menunggu selama hampir 20 tahun! Seorang lelaki: Lin, berjanji pada pacarnya: Manna untuk meninggalkan istrinya: Shuyu. Itulah Waiting yang dibuat oleh Ha Jin.
Bisa jadi, aku seperti beberapa tokoh di buku ini, doyan menunggu. Jangan kaget, bener kok, aku ini aneh, kalau harus menunggu, aku bisa dengan tenang menunggu orang atau sesuatu apapun, loh. Biasanya, aku hanya akan membaca buku (yang memang biasanya selalu aku bawa kemana-mana) atau kemudian asik berimaginasi tentang apapun yang ada disekitarku. Bukan berarti aku tidak akan marah, ya, tapi, proses menunggunya sendiri sih tidak terlalu bermasalah. Mungkin, ini nasib jadi orang tepat waktu di lingkungan yang terkenal dengan jam karetnya?
Adalah hal yang buruk, menurutku, terbiasa menunggu. Aku, menunggu sekian tahun untuk apa yang aku pikir cinta. Yah, penantian itu sudah berakhir *bukan berarti aku menyesalinya, soalnya tetep saja, tidak ada satu detikpun yang aku sesali dari kebersamaanku dengannya selama penantian itu*. Jangan-jangan, seperti yang buku itu bilang, I waited so many years just for the sake of waiting. Aduh, tidak! Apa jangan-jangan aku berharap banyak justru dari "menunggu" itu, bukan dari apa yang akan ada dari penantian itu, apa yang aku harapkan setelah tiba waktu yang ditunggu. Gawat.

Kebiasaan lain, aku suka mencocok-cocokan karakter atau situasi dari apapun yang aku baca dengan kondisi aku. Disini, banyak hal mirip yang aku temukan. Bukan fakta yang terlalu menyenangkan sih, tapi aku senang menemukannya. Satu hal yang aku temukan, aku merasakan menemukan seseorang yang aku sayang juga di buku ini. Satu kalimat yang ditujukan untuk Shuyu dilontarkan oleh Lin,"Will you help me." Entah kenapa, aku langsung teringat beberapa momen serupa. Begitu ringkih, tapi justru dalam kelemahan itu, butuh kekuatan untuk bisa mengatakan kalimat itu. Shuyu, juga seperti aku, menjawab,"All right, I'll help you, I promise. Don't be so upset." Mudah-mudahan, aku tidak salah menjanjikan hal tersebut, dan terutama sih, mudah-mudahan ketulusan hati aku saat menjawab itu betul-betul dipahami.
Kalau kamu sekarang sedang dalam posisi menunggu, entah menunggu jemputan untuk pulang kantor (hey udah jam 6 sore loh!), menunggu makanan yang kamu masak matang, atau menunggu hal yang lebih besar seperti pekerjaan, pasangan hidup atau apapun, well, mungkin bisa coba nunggu sambil baca buku (kalau kebetulan suka baca), misalnya buku yang satu ini.