Salah satu tujuan aku dan Lusi hari ini adalah
Ultimus
. Salah satu tempat di Bandung yang cukup rutin aku datangi, apalagi setelah kekecewaan ke Gramedia beberapa waktu lalu, Ultimus jadi salah satu tempat favoritku.

Di Bandung ini, kalau kamu kebetulan penggemar buku, kamu punya banyak pilihan, terutama beberapa waktu terakhir. Ada beragam toko buku yang katanya alternatif. Bacaan yang berbeda, yang tidak semata-mata buku yang, menurut aku, didiktekan oleh Gramedia, misalnya. Selain Ultimus, ada Tobucil (toko buku kecil) di Kyai Gede Utama, ada Rumah Buku di Hegarmanah, ada Ominum di Sultan Agung (aduh aku selalu aja sulit mengeja nama toko buku yang satu ini), ada Wabule di Imam Bonjol, ada Rumah Malka di Dago, ada beberapa toko lain deh. Suasana yang asik, dan tentu saja buku-buku yang menarik jadi sebab kenapa aku suka ke toko-toko buku ini.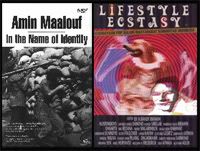 Ceritanya, mau ngenalin Lusi ke toko-toko ini. Aku usaha keras untuk tidak liat banyak buku, tetep aja, jebol. Memilih dua buku ini, yang satu cukup tipis, tentang identitas, judulnya
In The Name of Identity
. Satu lagi adalah satu buku yang selama ini aku pikir tidak pernah ada, tentang gaya hidup khusus di Indonesia yang entah kenapa dikasih judul berbahasa Inggris:
Lifestye Ectasy
. Buku yang kedua sebetulnya berupa kumpulan tulisan dari berbagai penulis.
Sayang, Rumah Buku ternyata tutup, padahal buku yang aku pinjam sudah terlambat beberapa hari (jadinya aku dan Lusi malah mampir ke Teko di Ciumbuleuit). Mudah-mudahan lain waktu bisa jalan-jalan ke toko buku lainnya ya. Buat yang belum tahu, jalan jalan deh kesana, jadi sasaran jalan-jalan ke Bandung bukan hanya
factory outlet
yang kayaknya udah mau meledak (Kata Lusi, Rumah Mode dari jam 9 pagi, sejam sebelum waktu buka, udah diantri-in banyak orang! Mo muntah gak sih?), atau tempat jajanan yang juga udah kayak cendol, dan apalagi menyesaki distro-distro di Bandung yang biasanya terdiri dari sebuah ruangan mungil (hey, dulu itu ruangan yang menyenangkan dan nyaman untuk beli kaos kaos yang lutu-lutu). Ke Bandung untuk berburu buku? Kenapa tidak?